| bulletin board |

Need assistance with a web development or design project? Looking to redesign your website? Help support Natascha McElhone Online by doing business with Oxygenesis Design.
[ miscellaneous news ]



This page has become a random information space where I will post relevant Natascha McElhone news and television or movie information that does not fit within the content of the other pages.
[ johnny vaughan tonight show ]



Attention UK fans: Natascha will be interviewed on the Johnny Vaughan Tonight show on Tuesday, 25th March 2003, at 11pm on BBC3.

[ v graham norton ]



Natascha was interviewed on the V Graham Norton talk show on Thursday, 20th February 2003. She is nearly 6 months pregnant. Thanks to Jessica Rabbit.

[ the sunday times ]



This website was cited in The Sunday Times on 16th February 2003. Natascha is on the cover of the Culture section. Thanks to Matt Peers for letting us know.

Contents: Sunday Times: Culture
Cover Story: In a galaxy not so far away

However, it looks like visitors from the U.S. are out of luck: "Times Online has introduced an annual subscription fee of £39.99 for overseas readers of the newspaper editions. You will be asked to pay the subscription fee after logging in or registering as a new user. Click on a headline to reach the log-in/registration box."

Your luck has changed! The complete text of the The Sunday Times article is now available here. Thanks to John.

Now, could someone with a subscription to The Sunday Times please email me the photos of "In a galaxy not so far away"? Your help would be much appreciated.

[ absolutely fabulous episode ]



Tune in on Saturday, March 20, 1999 at 4:30 PM EST to Comedy Central.
They are airing episode 2.02 (titled "Death") of the BBC comedy series "Absolutely Fabulous" once again. Natascha McElhone appears in this episode as the Art Gallery Assistant.

The official Comedy Central description of "Death" is as follows:
Edina is seriously attempting to reduce her bulk with the aid of magic mud and bandages and is extremely reluctant to break off when Saffy pleads with her to speak to Mother about a grave family matter. Even the news of her father's death fails to make an immediate impression; however, intimations of mortality begin to get to her. With Patsy's help she decides to invest in art and has it delivered to her living room, where unknown to her, Saffy has arranged for her deceased father to lie in state.
Click here to go to Comedy Central or here for times when "Absolutely Fabulous" episodes will air on Comedy Central in the coming months.
[ enter discussion forum ]



The Natascha McElhone Online Forum has been shut down. (The message board was originally created to serve as an interactive base for fans of Natascha McElhone to communicate with one another online. The idea was to encourage the posting of news, facts, questions, image links, and other information. It didn't quite work out in practice. Maybe we'll try it again at some point.)
[ official linked sites ]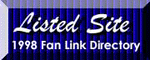 Do you like Radiohead, indie music, South Park, foreign films, famous quotations, surrealistic artwork, weird news, and other random cultural artifacts? Then check out the spiral::notepad.
Text © 1998-2004 Ian Cavalier. | Graphics © 1998-2004 Oxygenesis Design. | Disclaimer.
Website developed by Oxygenesis Design. | Contact oxygenesis.com owner Ian Cavalier.

Please send me an email if you have additional information, pictures, or if you've spotted Natascha in a magazine I don't have listed here. People will receive due credit on this site for their tips and contributions. I'd like this tribute to be as complete as possible.

Please read the FAQ before sending me an email with a question about Natascha.